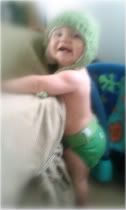 Why Cloth Diapers?
Reusable cloth diapers have many benefits, including:
Environmental

: Cloth diapers reduce waste for families with children in diapers by more than 50%.

Financial

: Cloth diapers allow families to save more than $2000 per child.

Health

: Cloth diapers help parents reduce exposure of their babies' skin and lungs to the chemicals in disposable diapers.

Cute and comfortable

: Parents love putting soft cloth diapers, available in a variety of styles and patterns, on their babies.

Convenient

: Once you've purchased your stash, no more weekly trips to the store to purchase more – simply put a load in the laundry!
For more information and facts on cloth diapers visit The Real Diaper Association.

There are also many different types of cloth diapers. Learn more about the different cloth diapering systems on Everything Birth, Inc's Cloth Diapering Info page.

Feeling overwhelmed by all the different types? Learn more about Diaper Parties by Everything Birth and find your local Diaper Parties representative to learn more about hosting a cloth diaper party. This way you can see and touch the different types and learn more in detail about the different systems of cloth. Different systems work for different families; after attending or hosting a diaper party, you will feel confident in your choice and you will avoid the frustration of purchasing the wrong type of system.

What's really nice about these parties is if a Diaper Parties representative cannot get to you, Everything Birth will ship the kit to you and the closest Diaper Parties representative can guide you via phone and internet. How perfect is that?

Diaper Party details will probably answer all of your questions but if you happen to have a question that isn't answered just leave a comment below. =]